Types of Bongs
Posted by my lady on
  From straightforward scientific styles such as the classic beaker bongs to elaborate functionals like recyclers with propellor percolators, Smoke Cartel has an excellent selection of water pipes. Shop by perc or size to find the pipe of your dreams!
  Beaker Bongs
  It's all 'bout that base. Beaker bongs are a classic water pipe with a wide bottom that offer increased stability and a smooth smoke. Bongs in the beaker style tend to be sturdier than their straight tube counterparts, making them less likely to be knocked off the coffee table by the cat.
  Another advantage of beakers is that they hold more water and more smoke in the base, allowing for larger, grander hits.
  Straight Tubes
  For buyers looking for a simpler or more traditional look, straight tubes and beaker base water pipes are the way to go. Not only will these designs be easier for beginners to master, but some styles also offer versatility in separate parts and accessories. Water pipes with removable downstems allow you to switch this part with a dabbing nail or another accessory to use with other substances. Just remember to purchase an accessory that fits your water pipe joint size and shape. Straight tube water pipes will hold less water than beaker base pipes, but many users prefer the lighter weight and style.
  Bubble Base Bongs
  The bubble base style of bong was popularized around the 1970s, and is a familiar look to many. These water pipes either often come with a pedestal base, or sits directly at the flattened end of the bubble base. An iconic look that offers good versatility and ease of maintenance with it's no frills look.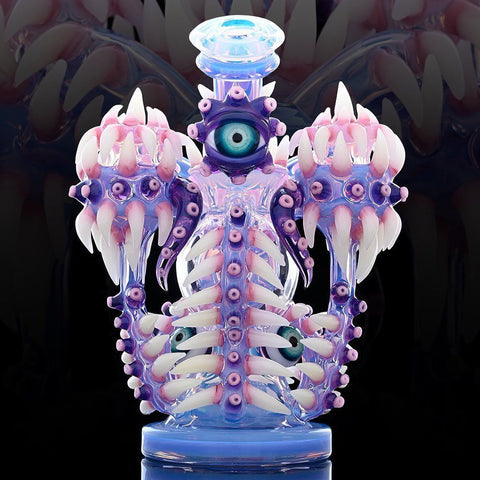 Dab Rigs
  Water pipes specifically intended for use with dabs and concentrates are called dab rigs. These dab rig bongs filter the water carrying the vapor up through a chamber close to the mouthpiece, release the vapor for the user to inhale, while maximizing on flavor and airflow since filtration is not as important as when combusting herb.
  Dab Rigs tend to work with concentrates the best, but can also be used with flower and herb.
  Something Unique
  A beautiful piece of glass art, your bong, is like a treasured friend. We offer many unique pieces here at Smoke Cartel, and know you can find the perfect themed bong to show off your style. We look far and wide to find you the coolest bongs in the world. That's what makes our online headshop - so unique.
---
Share this post
---
---